In January 1947, Daniel Dennett seemed to have it made. Dennett, who had taught at the American University in Beirut, Lebanon, during the early 1930s, was cultural attaché at the US Legation in Beirut. Dennett's wife had just given birth to Charlotte, a beautiful baby girl. Dennett's son, Daniel III, was five years old and thriving along with his sister Cynthia, who was eight, in the relaxed atmosphere of a city that still qualified as the exotic Paris of the Middle East.
Like almost everything else in the Middle East, nothing was what it seemed. Six weeks later, Dennett was dead, killed, along with five other Americans, when an Ethiopian airliner crashed into a mountainside.
Charlotte, who was only six weeks old, would never meet her father. Shortly after the crash, her mother took her children back to the United States. Charlotte grew up as a typical American teenager in Massachusetts. Then, when she was 16, her mother suddenly felt an urge to return to Beirut. The American teenager finished high school in the city that had captivated her parents' imagination.
For Charlotte, it was a life-changing experience. She went back to the United States to attend college at Wheaton in Norton, MA, then returned to Beirut to begin working as a reporter on the Beirut Star, one of the Middle East's leading English-language newspapers. Then, in 1975, she found herself trapped in a firefight, when a bus filled with Palestinians was caught between opposing factions in an early skirmish in Beirut's fratricidal civil war. Shaken, she returned to the United States. 
A trunk in the attic: Private and letters revealing her father as an American spy
It was at a family dinner that her brother, discussing developments in Beirut, casually mentioned that a trunk in the attic held the private correspondence and papers of the father that she had never known. The papers, revealing Daniel Dennett's true identity as an American spy, launched Charlotte onto an 18-year crusade to discover the true circumstances surrounding the crash that killed her father. What she learned is retold in The Crash of Flight 3804. The book is the result of a relentless and seemingly endless campaign to force the CIA to release classified information detailing America's early intelligence forays into the Middle East.
Far from being only a mild-mannered cultural attaché, Daniel Dennett was one of the chief figures running an intelligence network that extended throughout the Middle East. Dennett, in fact, explored new territory at a critical turning point that would shape the region for decades to come. Dennett's code name was "Carat." With the outbreak of the war in Europe, Dennett returned to the US, completed his PhD at Harvard in 1939, and began teaching at Clark University. Clark turned out to be a recruiting ground for the Office of Strategic Services (OSS), Colonel "Wild Bill" Donovan's precursor to the CIA. Recruited into intelligence operations, Dennett, who spoke fluent German, was sent to Beirut, ostensibly to clean up the remaining Nazi intelligence operatives. 
Oil: The new game in town
When Dennett reached Beirut in the spring of 1943, he found that most Nazis had already slipped away. There was a new game in town: oil. Winston Churchill had been Lord of the Admiralty at the start of his career, when Britain's warships switched from burning coal to oil. The nation had enormous reserves of coal, but no petroleum. Britain's empire relied on the Royal Navy, and the Navy depended on oil, something that became obvious during World War II.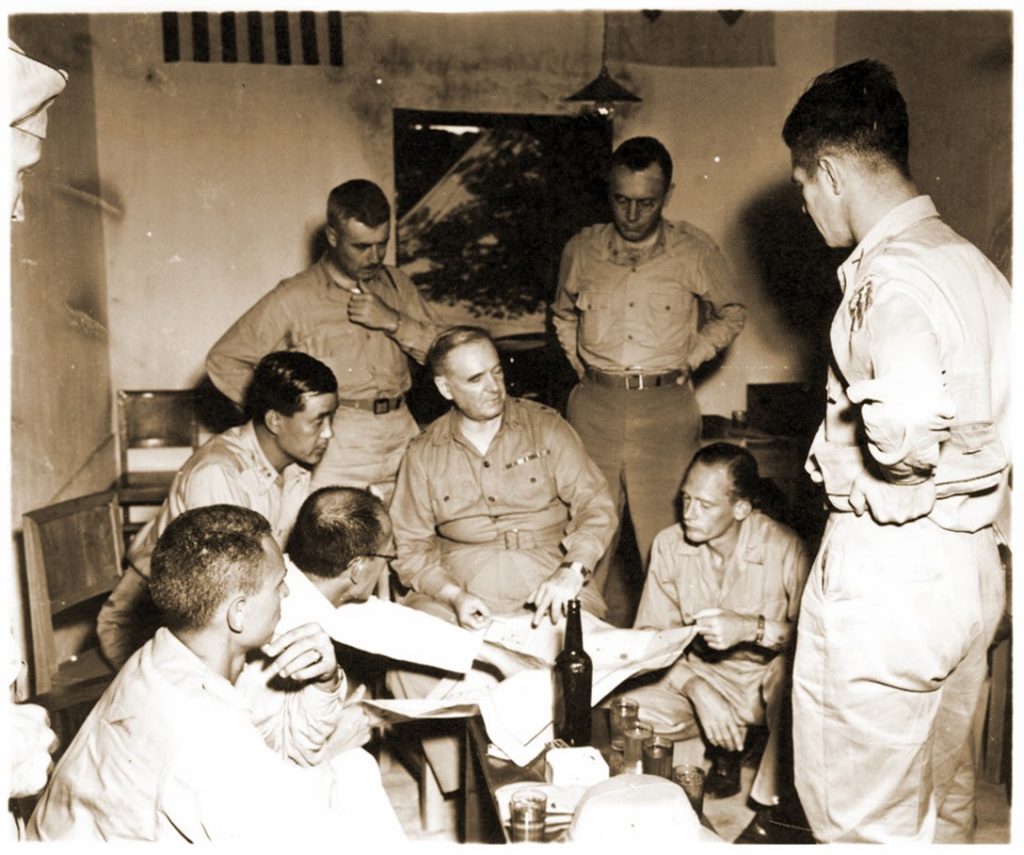 William J. Donovan briefing soldiers during World War II. Photo credit: CIA
The OSS, which had been dedicated to fighting the Nazis, was disbanded at the end of the war. Dennett was assigned to work for the Central Intelligence Group, which replaced it and would soon be reconstituted as the CIA. Through a connection to an Irish woman, Isabelle Dunne — who had fallen in love with an Arab prince, converted to Islam, and joined a harem after changing her name to Fatima — Daniel Dennett had been able to integrate himself into the upper reaches of the Middle East's elite.
The key geopolitical question was now over who would control the future of the Middle East's oil. That led to an intimate alliance between US intelligence and America's powerful oil companies. Not surprisingly, Dennett's immediate boss in the Central Intelligence Group, Turner McBaine, eventually emerged as general counsel for SOCAL, the Standard Oil Company of California.
For Charlotte Dennett, the connection between oil and intelligence had a special resonance. After returning to the US, she had met Gerard Colby, a young freelance writer in New York, who had just published Du Pont: Behind the Nylon Curtain, a book on the DuPont dynasty. The couple married and headed off to South America, where they worked on a follow-up book, Thy Will Be Done, dealing with the intersection of endangered Amazon native tribes, evangelical missionaries, and the oil business. Research for that book prompted Charlotte to dig more deeply into her father's role in Beirut.
For Daniel Dennnett, the burning question had been the route for Tapline, a pipeline that would eventually transport oil from Saudi Arabia to the Mediterranean, and ultimately to Europe and the US. Construction on Tapline had started in 1947. It would eventually be completed in 1950.
The Tapline Alliance: WWII cooperation replaced by individual interests for controlling Arab oil
The route promised a financial windfall as well as a heightened risk to the countries that it crossed. The most practical location for a final shipping terminal appeared to be the port city of Haifa, which was still in British-controlled Palestine. The problem was that the Arabs, in particular the Saudis, would never agree to have their oil pass through territory that had a large Jewish population. An alternative might be to create a terminal in Syria or Lebanon. Allied support to the Arab governments that would be permitted to exert custodianship over the pipeline suddenly took on a heightened importance.
Daniel Dennett soon discovered that the alliances that had defeated Hitler were becoming less reliable as competition increased for Tapline's right-of-way. Both the French and the British were anxious to reassert the colonial claims they had imposed on Arab territory after the collapse of the Ottoman Empire at the end of World War I. The British, in particular, were adept at asserting "soft power." Suddenly British professors were volunteering to teach at the American University in Beirut and at a college in Aleppo. At stake was a campaign to win the hearts and minds of the generation being trained to assert future political power in the region. The British were not the only players. The Russians, who had installed satellite governments in the eastern half of Europe immediately after the war, were also trying to secure Arab support for a Communist future.
Dennett had become increasingly aware that the game was being played for high stakes. On his last trip to Washington, he expressed doubt about whether he would come out of the situation alive.
His final flight on a C47 transport plane from Jeddah in Saudi Arabia to Asmara in Eritrea and then on to Addis Ababa in Ethiopia was not as ordinary as it seemed. The British had done their best to exclude American airlines from flying over East African airspace. To get around the British, the UShad provided military air transport. The American interest extended far beyond transportation. Flying over vast stretches of territory proved to be one of the cheapest and most effective ways to perform initial surveys for oil. The region's major oil deposits were in Ethiopia's southeastern Ogaden region, still controlled by a British military mission. Sinclair Oil, an American company, later declared that aerial photos taken during overflights had been crucial to its explorations.
Dennett was not the only American of interest on the plane. Donald Sullivan, the US oil attaché for the Middle East, was one of the five Americans killed, and an even more valuable potential target may have been John Creech, the Central Intelligence Group's expert on clandestine communications. Creech had been traveling throughout the Middle East, installing top secret communications gear in the different American legations.
Charlotte Dennett's efforts to discover the cause of her father's death led to a years-long struggle to pry out details from the US government using the Freedom of Information Act. Her campaign led to a book, and ultimately to the CIA's recognition that her father had indeed been a "forgotten first star." Both Daniel Dennett and the communications expert, John Creech, are now represented by stars on the Agency's wall of fallen heroes.
Charlotte Dennett's book, from Chelsea Green Publishing, draws on a wealth of research. Her father clearly saw the struggle over Middle East oil as a new chapter in the "Great Game," the political and diplomatic chess match in which Britain kept the Russians and other European countries from encroaching on its colonial empire. In one such move, the British had installed a puppet ruler as Shah of Iran in 1925, but managed to overthrow him in 1941 when it appeared he might grant Hitler access to Iran's oil. One of Iran's subsequent leaders, democratically elected Prime Minister Mohammad Mossadegh, threatened to nationalize the Anglo-Persian Oil Company. The British argued that Iranian oil could not be allowed to fall in the hands of the Soviet Union, so they sought CIA help to overthrow Mossadegh in 1953. His installed replacement, the son of the deposed Shah, was Mohammad Reza Pahlavi, who ruled until being overthrown himself in the Iranian Revolution of 1979.
The exact cause of the 1947 plane crash that killed Daniel Dennett was never conclusively determined. 
Veteran foreign correspondent and author William Dowell is Global Geneva's Americas editor based in Philadelphia. He wrote this article for Who.What.Why., a U.S.-based news organization that embodies a form of groundbreaking investigative journalism (referred to by its editors as forensice journalism) that is rigorous, relentless, and scientific. As part of its global approach, Global Geneva is seeking to broaden its collaboration with other like-minded news organizations with a focus on serious and trusted journalism.
Related front page panorama photo credit: Adapted by WhoWhatWhy from Central Intelligence Agency / Flickr.
The Crash of Flight 3804: A Lost Spy, A Daughter's Quest, and the Deadly Politics of the Great Game for Oil (Chelsea Green Publishing, 2020)
---
Related articles in Global Geneva