Dutch police arrested a former Afghan communist army commander allegedly involved in a massacre of more than 1,000 men and boys in Afghanistan 36 years ago. This article was first published by the Christian Science Monitor on 4 November, 2015. Two accounts of the atrocity by Essential Edge co-editor Edward Girardet, who is also a Monitor correspondent, played a role. (A more detailed version of this story can also be found in Girardet's most recent book Killing the Cranes – A Reporter's Journey through Three Decades of War in Afghanistan.)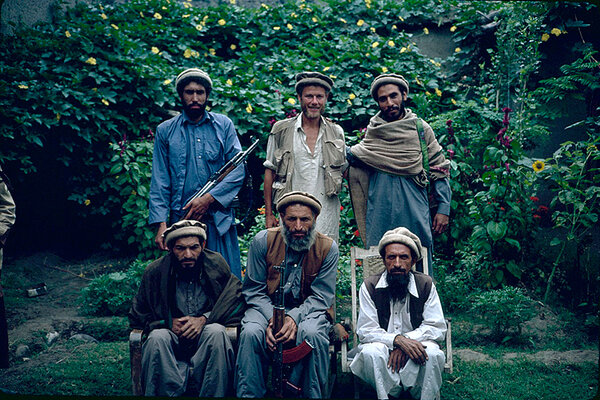 I first learned of the investigation in 2009, on the eighth anniversary of 9/11. My wife's nephew had called me to say that the Dutch police were looking for me. I immediately wondered whether I had not paid an outstanding parking ticket. Or worse.
As it turned out, the War Crimes' Office of the Dutch National Police wanted to discuss a massacre that had taken place on April 20, 1979, in Kerala, in Afghanistan's eastern Kunar Province. Intrigued, I agreed.
According to the investigating officer, Bertjan Tjeerde, the unit considered two accounts of mine as primary sources for what had happened: a Feb. 4, 1980 Monitor article – "
A grim chapter in Afghanistan war
" – followed by more detailed accounts in my 1985 book, "Afghanistan: The Soviet War."
The case was possible because the Netherlands has no statutes of limitations for crimes against humanity. But so many years after the atrocity, establishing sufficient hard evidence to prosecute posed a tough challenge. Mr. Tjeerde met me in Geneva with a colleague two weeks after his phone call in search of more information. We talked for four hours.
The killings – reprisals for collaborating with anti-government mujahideen fighters – were grim indeed. As I reported at the time:
It was an unforgettable five minutes. "They forced all the men to line up in crouching positions in the field just outside the town and then opened up with their machine guns from behind," recalls Abdul Latif, a bearded Afghan traffic policeman. "Then they spread out through the town gunning down all the remaining men they could find."

Mr. Latif, now living in western Pakistan, is one of the few male survivors of a Soviet-ordered massacre of more than 1,000 people last April in Kerala, a small riverside town in eastern Afghanistan's Kunar Province.

According to Mr. Latif and other survivors, some 200 Afghan soldiers and policemen, together with 20 Soviet advisers, cold-bloodedly machine-gunned almost the entire male population of the town….

Survivors say that as they watched, an army bulldozer plowed the bodies into the soft earth of an open field.
The Dutch investigators had already investigated high-ranking Afghan KHAD (secret police) officials for torture during the communist era, as well as a Dutch citizen involved in arms trafficking in Liberia and another in Iraq. They were now pursuing those responsible for the Kerala massacre, notably a former Afghan refugee who was now a naturalized Dutch citizen. (Another Kerala suspect, reportedly living in Norway, can no longer be brought to justice because of that country's statute of limitations.)
Tjeerde was cautious about naming their suspect, but I was able to work out that it was Saddiq Alamyar, ex-head of the elite 444 commando unit, which had spearheaded the atrocity.
As a journalist, I have encountered all too many war crime perpetrators, some still untouched in positions of power. To help my visitors, I pulled out my old notebooks, filled with details from my first assignment for the Monitor, notably the December 1979 Red Army invasion of Afghanistan. These included coverage of the rapidly expanding refugee crisis, with hundreds of thousands of Afghans pouring into Pakistan, where I was based, every month.
For months, rumors had been trickling down from the border of a massacre. One UN source confirmed that several hundred women were living in a "widows" refugee camp in the Pakistani tribal agency of Bajaur. All their male relatives had been murdered. Three other journalists and I traveled up to investigate.
More than 33,000 Afghan refugees had converged on the region's verdant valleys lined with terraced wheat and opium-poppy fields. We discovered some 400 families, mainly destitute women and children, remnants of the Kerala massacre. We knew the women were widows because they were not veiled. Normally, as men, we would not have been able to talk to them directly, but according to tribal norms, they no longer had any value as women.
Their story was devastating. Barely 200 of their menfolk were left. Some had been absent, while others had escaped the military gauntlet. As the Monitor reporting indicated, their testimony confirmed both the horror and magnitude of the killings.
We talked to several dozen witnesses, and made two attempts to enter Afghanistan surreptitiously. On both occasions, we were turned back by Pakistani military.
More than a quarter-century later, Bertjen's team managed to track down some of those we had interviewed. As part of a costly investigation, including trips to Afghanistan, they undertook detailed video examinations to obtain their testimony.
Despite the presence of Soviet advisers, the actual massacre was committed by Afghan forces. According to the Dutch, this included Alamyar's 444 commando unit. Bertjen further noted that these troops had been involved in several other killings. The Dutch national had allegedly fired some of the shots himself.
The Kerala massacre was the first reported case of a large-scale reprisal by the communists since war erupted in Afghanistan in the summer of 1978. Until then, news of summary executions and mass killings had circulated, but nothing based on eyewitness accounts. While the Dutch police were seeking hard evidence beyond the circumstantial testimony, my report did serve to highlight the incident.
At the time, I felt that my coverage, which won the 1980 Sigma Delta Chi Award for Foreign Reporting, had achieved something concrete. Naively, I figured that history would remember Kerala; as my report indicated, "far more people were killed in this Afghan massacre than when the entire male population of Lidice, Czechoslovakia, was slaughtered during World War II by the Nazis or when American troops killed civilians in the Vietnamese village of My Lai in March, 1968."
Yet Kerala quickly receded into oblivion.
In recent years, I have visited the two mass graves on the edge of Kerala several times. Other than a simple plaque, there was no mention of what had happened. When I confronted an Afghan friend, he said there had been "too many" such killings in Afghanistan, so why choose one?
What matters for many, whether in Afghanistan, Sri Lanka, or Zimbabwe, is that those responsible must be brought to justice, even if it takes years. This is what the Dutch have demonstrated.
Edward Girardet is a reporter and author based in Geneva. He is currently a Journalist-in-Residence with the Geneva Centre for Security Policy. His most recent books included "Killing the Cranes – A Reporter's Journey Through Three Decades of War in Afghanistan" and "The Essential Field Guide to Afghanistan."